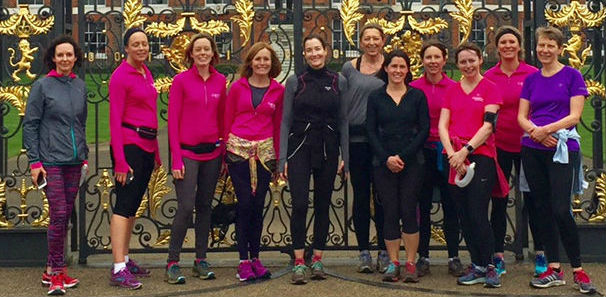 Throughout the year we organise a number of social runs including London runs and themed runs. Each run costs from £15 to £25 and is always followed by coffee and cake. 
Each social run will have a maximum of 12 runners but if more people want to join then two groups will be formed.
London run details
London runs are usually a 10-12k distance so they are suitable for those who are comfortable running this distance, but not necessarily at a fast pace.
Previous runs include:
London runs:

Royal Parks, 10/3/17, 5/11/21
Towpath – Putney to Kew 21/5/21, Putney to Vauxhall 17/9/21, Regents Canal 21/1/22, Richmond to Hampton Ct 29/4/22

Themed runs:
Other social runs & weekend retreats
Every Friday during term time there is a social run on Wimbledon Common and a small fee is charged when booking a beginner or improver running course. Drop-in sessions are available and cost only £8.
In addition, we organise trail runs in the Surrey Hills, Christmas Scavenger Hunt Runs and more recently a weekend retreat.
Here's what some Common Runners had to say about our runs:
"Thank you so much for organising. It was brilliant. Great thing to do and spent time with running friends." Jane S, Wimbledon
"Thank you so much for organising a super run, I loved it, a great morning!" Emma N, Wimbledon
"It was brilliant – thank you so much for organising and for coffee and cake in a beautiful spot." Jackie V, Raynes Park
"Wonderful, thank you! And thanks for organising it all so well – what a fabulous morning. Looking forward to the next one." Katie F, Wimbledon
For more information about our London runs please contact Caroline on 07810 486286 or email info@commonrunners.co.uk