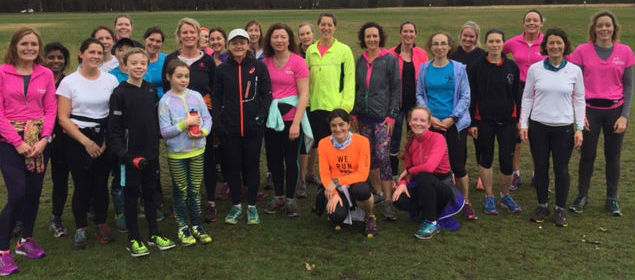 Every year we celebrate International Women's Day (March), usually with a run on Wimbledon Common where we tend to raise funds for a local charity, invite a special guest, organise a Q&A and/or workshops. 
We like to make our social run memorable for international Women's Day and in the past we have had a few special guests join the run followed by a Q&A including Mara Yamauchi, an elite marathon runner. Mara kindly brought her medals and running shoes from the Olympics and other championships for us to see and she was happy to sign footballs and bags for children and take numerous photos for keepsakes and publicity purposes.
On other occasions, we have used the run to raise money for various local charities including Stem4, a teenage mental health charity as well as for Hestia, a charity that supports women and children who have experienced domestic abuse.
Other social runs & weekend retreats
Throughout the year we organise a number of social runs including weekly runs on the Common, London runs, trail runs in Surrey and more recently a weekend retreat.
For more information about our social runs please contact Caroline on 07810 486286 or email info@commonrunners.co.uk
Here's what some Common Runners had to say about the run and Q&A with Mara –
"I thought it was brilliant and Mara was just lovely and it's so refreshing to meet someone who's achieved so much but is very modest. Thank you very much for organising." A. Link, Wimbledon
"Thanks for organising it and for inviting us all to join you.  It was a lot of fun and very interesting." S Pickford, Raynes Park
"It was a wonderful morning. Thank you so much arranging it. Really enjoyed it." R, Smith, Wimbledon