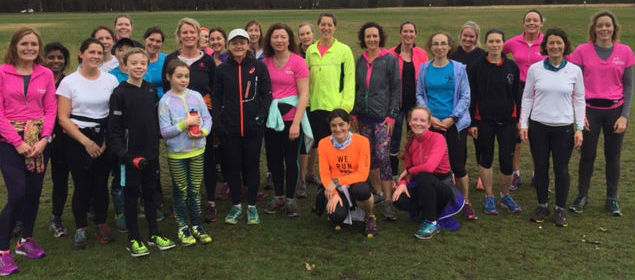 To celebrate International Women's Day on Wednesday 8 March, Mara Yamauchi – an elite marathon runner (the UK's second fastest female marathon runner of all time and a two-time Olympian) – kindly joined our weekly 5k social run on Wimbledon Common. The weather was particularly miserable but nearly 30 women, children and two men joined the run!
After a fun warm up with Mara, we ran a 5k through the mud and rain in two loops followed by a Q&A over coffee at the London Scottish Golf Club. Mara brought her medals and running shoes from the Olympics and other championships for us to see and she was happy to sign footballs and bags for children and take numerous photos for keepsakes and publicity purposes.
There were some interesting questions posed at the Q&A from 'what did you have for breakfast?' to 'do you have any tips on finishing a race when you are exhausted?' Mara answered all questions in a considered way and everyone came away truly inspired by her determination to follow her dream to be an Olympian.
For a summary of the Q&A provided by Time & Leisure Magazine, please click here.
A special thank you to Mara and Julia Bailey from England Athletics who made International Women's Day special for Common Runners.
Here's what some Common Runners had to say about the run and Q&A with Mara –
"I thought it was brilliant and Mara was just lovely and it's so refreshing to meet someone who's achieved so much but is very modest. Thank you very much for organising." A. Link, Wimbledon
"Thanks for organising it and for inviting us all to join you.  It was a lot of fun and very interesting." S Pickford, Raynes Park
"It was a wonderful morning. Thank you so much arranging it. Really enjoyed it." R, Smith, Wimbledon